About Us
The Security Executive Council (SEC) is the leading research and advisory firm that specializes in corporate security risk mitigation solutions. We help security executives succeed.
What makes the SEC different?
Simply stated - our process and our people.
The SEC Consulting Process
1. New Reality Assessment
The first step is an assessment of your current environment. What needs improving? What are Security's fixed conditions? What recent changes have impacted Security, such as new business directions, new stakeholders, or a merger or acquisition?

2. Define Risks and Desired Outcome
An SEC team made up of former CSOs will engage with you to identify the key risks and determine the continuum of desired outcomes depending on your conditions. We map the solution to your C4R – current circumstances, conditions, culture and resources.

3. SEC Research and Knowledge Base Analysis
Once we understand the issues and potential barriers, we search our extensive security knowledge base for resources or research data that can be used as a base or to kickstart direction ideas.

4. Collective Knowledge™ Review
Next, our subject matter experts bring their varied experiences and knowledge together to create a plan to help you reach your desired outcome. We call this Collective Knowledge™.

5. Examine and Align for Unified Risk Management
We help determine which other functions the plan should touch and align with. We use the SEC's Unified Risk Oversight™ model to help plan and communicate the value of cross-functional collaboration.

6. Sponsorship Acceptance and Executive Validation
We assist in communicating the value of the project to the business leader accountable for Security's new vision. This in turn assists in communicating the strategy to senior executives from other functions.

7. Define Business Value Measures
Business value metrics are developed for the client team to measure and determine project success for the organization, including key stakeholders.

8. Implementation Assistance
Last, clients can either take the SEC deliverables and run with them, or we can guide you through the implementation of your plan. At the end of the day, the SEC is here to help you succeed.
Our Clients
Although most of our clients have annual sales of $5 billion - $200 billion, we have significant experience with startups, emerging organizations, divestitures, small to mid-sized businesses and not-for-profits as well. We have worked with companies at the height of their growth earnings, companies emerging from bankruptcy, merged organizations from M&As as well as hostile takeovers.
Our clients come from all over the world, and a large percentage are global companies. Because no two companies' risks, cultures, leadership, strategies, risk appetite, security philosophy, or security program resources are the same, we specialize in finding the right combination of skills and initiatives to generate success for a client at this moment in time.
The SEC also extends an exclusive offering called Tier 1 Leader. This is for security executives who want a different kind of advisory engagement. These leaders are interested in being engaged at an industry-changing level. Tier 1 Leaders have first access to the SEC's newest resources, early participation in new initiatives, alerts to emerging trends, and discussions with like peers, subject matter experts and leading industry experts.
Click here for more on Tier 1 Leader
.
Engagement
Our consultants are all industry-leading former corporate security practitioners – something no other organization can claim. Our subject matter experts are motivated by a desire to give back to the industry.
Learn more about how we work with practitioners.
Contact us
for a discussion on how to find your winning combination to success.
Industry Impact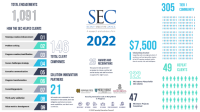 You may be interested in what is behind our effort for the betterment of security programs and leaders globally. We have created an infographic that covers the SEC's industry impact on clients and our community in 2022. Click on the thumbnail image to the left to learn more.
What Our Clients Have to Say About the SEC
"Being involved with the SEC provided me with the opportunity to tap into the collective knowledge of the SEC subject matter experts, provide meaningful training for my global security team, and allowed me access to valuable security benchmarking data. I always strived to lead a highly functioning team that protected our employees and our business. My association with the SEC assisted me in analyzing my efforts."
- A CSO from a Fortune 500 financial services and communications company
"I was initially drawn to the Security Executive Council in 2014 because of their strategic focus on communicating security value at the board level. Their business focused and forward-thinking philosophy aligned perfectly with where I wanted to take my Department. Since then the SEC's leadership, emeritus faculty and other subject matter experts have continued to impress and provide significant guidance and resources that have allowed me to successfully evolve my program. Equally as valuable, is the ability to collaborate with other Tier 1 Security Leaders from large Fortune 500/1000 companies who all share similar strategic objectives. It's these things that have kept and will continue to keep me involved."
- A Director of Global Security from a Fortune 1000 manufacturing company
"The SEC represent the best aggregation of security leadership knowledge, global research, deep expertise and objective impartiality. The SEC has plugged and played at every level and across the full enterprise security risk spectrum (tactical through strategic)—security strategy formulation, security program evaluation, advocacy and assessment, security process design and development, risk mitigation project implementation and measurement. The SEC has broken the mold in their charter to help develop creative, adaptive and risk-aware security leaders. They have been extended staff since their introduction to the team. Their collective and data-driven solutions continue to drive relevance and help elevate our game. Couldn't live without them."
- A Director of Global Security Services for a not-for-profit research and development organization
"Since 2010, the SEC has afforded me a pool of external expertise that has intimate domain knowledge of the security space and the dynamic challenges we face as CSOs each day. As former CSOs themselves, the SEC allows me flexibility to utilize their non-advocate expertise to either consult on a project/initiative or assign the work statement and the end-product to them directly for completion on my behalf. I view the SEC as a trusted resource and business enabler for my team."
- A CSO from the world's largest aerospace company
"The Security Executive Council is our main resource for improving our programs and ensuring our strategy for business value. The SEC provides unmatched skill and intelligence for benchmarking our programs with top industry talent and programs. The staff and faculty of the Security Executive Council are skilled problem solvers who add capabilities to our internal security staff."
- A Vice President of Security from one of the largest financial services companies in the world
"For the last 13 years, our company has been an SEC member because of the following practical benefits received from the organization such as expertise received on a wide variety of security issues, and assigning complex security projects to experienced SEC Faculty that our company has neither the expertise nor time to complete. The SEC helps us keep current on issues that confront other security practitioners and they are on the cutting edge of where the security profession is heading so we stay current with security trends and make the appropriate adjustments to our program in a timely manner. Our department has grown and matured exponentially from the expertise and guidance provided by the SEC."
- A CSO from a large privately held consumer electronics company
"As a CSO and/or senior security leader for almost 25 years, I have been strategically engaged with the Security Executive Council for over a decade. Our relationship has evolved from an initial specific request-driven relationship to our current state relationship of partnering through the most challenging strategic issues and concerns on a global scale. The SEC faculty has an appreciation for the challenges CSOs face since they themselves are very often former CSOs who have learned and excelled throughout their careers. They are thought leaders and problem solvers grounded by the highest levels of security knowledge and real-world experience."
- A CSO from one of the largest U.S. commercial banks
Partial List of Organizations We Have Worked With:
AARP
AECOM
Air Liquide
Akamai Technologies, Inc.
Alcoa Inc.
Alexion Pharmaceuticals
American Airlines
Amazon
American Electric Power
Amgen, Inc.
American Superconductor Corporation
Anadarko
AngloGold Ashanti
AON
Apollo Group
Applied Materials
Archer Daniels Midland Company
AT&T
Baker Hughes
Bank of New Zealand
Baptist Health
Baupost Group
Belo Corp.
Biogen Idec
Blue Cross and Blue Shield of Florida, Inc.
Boise Cascade
Bose Corporation
Briggs & Stratton Corp.
Bridgewater Financial
Brown Brothers Harriman
CACI International Inc.
Capital One Financial Corp.
Cargill
Carlson
Cheniere Energy
Chesapeake Energy
Cisco
City of Atlanta, Department of Watershed Management
CNA Financial Corporation
Comcast
Consumers Energy Company
Corning Incorporated
Constant Contact
Cox Communications
CSL Behring
Cummins Inc.
CVS Caremark
Dell Inc.
Delta Air Lines, Inc.
Department of Homeland Security
Discover Financial Services
DTE Energy
Duke Energy
DynCorp International, LLC
Equifax, Inc.
Exelon Corp.
Fannie Mae
Federal Bureau of Investigation
Fidelity Investments
FirstGroup plc
FM Global
Fred Hutchinson Cancer Research Center
Geico
General Atomics
General Mills, Inc.
Genzyme Corporation
GM Financial
Gucci
Halyard Health
Hilltop Holdings
Honeywell International
Horizon Pharmaceuticals
Humana Inc.
Hunt Consolidated, Inc.
Inter-American Development Bank
International Relief & Development
Johnson Controls
Kimberly-Clark Corporation
Kinder Morgan
Kohler Co.
Kraft
Laconia Savings
Letterman Digital Arts
LPL Financial
Mars-Wrigley
Massachusetts General Hospital
Massachusetts Port Authority
MassMutual Financial Group
Mayo Clinic
McCormick & Company, Inc.
MD Anderson
Medtronic
Merck & Co.
Michelin North America, Inc.
Microsoft Corporation
Monsanto
National Grid
Nederlandse Waterschapsbank N.V. (NWB Bank)
Nokia Siemens Networks
Novartis Vaccines and Diagnostics
Panduit
Partners HealthCare System, Inc.
Paypal
Pierce County, WA
Pixar
Principal Financial
Progressive Insurance
Providence Health & Services
Prudential plc
Qualcomm
Ralph Lauren
Raytheon Company
Red Hat, Inc.
Royal Caribbean Cruises Ltd.
Sanofi Aventis
Santa Cruz Beach Boardwalk
SC Johnson & Son
Sherwin Williams
Shire
Siemens
Southern California Edison
St. Jude Medical, Inc.
Starbucks Coffee Company
State Street Corporation
Sun Mircrosystems
Sutter Health
Symantec Corporation
Takeda Pharmaceuticals
Target
Temple-Inland
Teradyne
Tesla
The Boeing Company
The Home Depot
The J.M. Smucker Company
The MITRE Corporation
The Port Authority of NY and NJ
The Procter & Gamble Co.
The University of Texas Police at Houston
The Western Union Company
Torchmark
Tribune Company
U.S. House of Representatives
Western Digital Corporation
Xilinx
Xylem Inc
Yamana Gold
Ziff Brothers Investments
Zions Bancorporation
Zoetis
Zulily