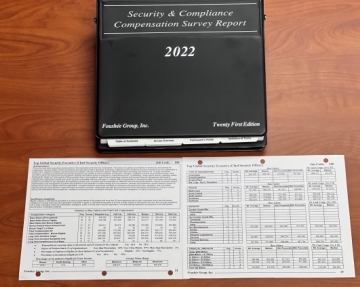 The Foushée Group and the SEC want our security community to know about the Security and Compliance Compensation Research Report; this report has total cash compensation information for corporate security titles. The 2022 report has
78 security job positions and 113 participating companies
. The report is available to security practitioners and corporate compensation departments. View a
sample of the information provided for the Manager, Business Unit Security and Manager International Investigations
positions.
The value of this resource for security practitioners is multifold:
Be better equipped to negotiate market compensation for your current position or for a career move.
Be better equipped to negotiate market compensation for your team.
Use the information for retention and attracting top talent.
Leverage compensation research data to ensure fair and transparent pay, while eliminating discrimination and unequal pay practices.
Informing the development of job descriptions and compensation ranges for new security hires.
The value of this resource for compensation departments includes:
This report covers a niche area - corporate security, compliance and cyber security.
The cost for this report is very economical compared to other compensation reports.
There are many levels within titles so you'll find better matches.
Contact us to participate in the 2023 survey
.
How to Use this Data
To learn more on how to use this report to your and your team's advantage,
read this guide on how to partner with the compensation department
to get you and your security team paid fair market rates.
Sneak Peek: Compare Your Total Compensation to the Industry Average
About
95%
of the participants using the SEC's compensation calculator self-report they are paid the below the Foushée report market average (note there were only a handful of positions loaded into the tool but more are coming soon).
By entering your total compensation, defined as annual base, annual bonus paid and long term incentive paid annually, the tool will provide a percent of your total compensation in comparison to the current market value (weighted average) based on recent compensation data results.
Enter your data here.
About The Report
The Security Executive Council (SEC) has worked with the Foushée Group since 2002. The Foushée Group creates the only compensation research report for security positions; they became an SEC strategic alliance partner in 2005. The two organizations are announcing a significantly expanded initiative in response to HR and compensation professionals' efforts to move pay transparency to mainstream compensation practices.
Only official, verified compensation files are accepted. The survey and report adhere to both the spirit and the letter of the U.S Department of Justice's Safe Harbor Guidelines for appropriate and legal collection and reporting of salary survey data.
Purchase 2022 Report
For active security practitioners: $995.00 USD
For corporate compensation departments: $1075.00 USD
Contact us for additional information.