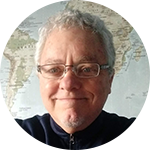 Francis D'Addario, CFE, CPP
Emeritus Faculty, Strategic Innovation
Congratulations to Francis on being awarded the 2022 OSPA Lifetime Achievement Award! Click here for details.
Francis D'Addario leads the Security Executive Council's Security 2020™ and Next Generation Leadership initiatives. Previously, his cross-functional teams developed proven practices at Starbucks Coffee, Hardees Food Systems, Jerrico Inc. The Southland Corporation (DBA 7-Eleven) and Crime Prevention Associates. He is a co-developer of RED, an enterprise risk event reporting and analytics tool.
D'Addario is an accomplished all-hazards risk mitigation practitioner and strategy leader. His influence and vision are credited with measured results for anomaly detection, asset recovery, business continuity, compliance, cost avoidance, crime prevention, information protection, investigations, operational auditing, policy governance, profit contribution, supply chain quality assurance and team engagement. His executive committee experience includes Audit, Compliance, Governance and Information Security.
His cross-functional protection and profit improvement methodologies have been featured by America's Most Wanted, Christian Science Monitor, CNN, CSO, ISO Focus, New York Times, Security Management, and The Wall Street Journal. Audited risk reduction and profit improvement results include 50 – 90 percent category casualty improvements and cost avoidance with estimated annual net contribution up to $26 Million (USD) after security cost. Francis has an Editorial Board appointment to LP Magazine and has also served in volunteer leadership positions with ASIS, McGruff House, and The West Seattle Food Bank throughout his career.
Professional recognitions include Security's "Most Influential, CSO's "Compass", The National Food Service Security Council's "Lifetime Achievement awards and Jerrico Inc's "Manager of the Year". Team Citation honors: Operations' "Most Valuable Distributed Support Service" and "Super Spirit of Starbucks" for business continuity leadership following Seattle's Nisqually Earthquake and global headquarters evacuation/relocation.
Francis' publications include
Influencing Enterprise Risk Mitigation
In Their Own Words
Watch Francis D'Addario discuss how CSOs can convert security services and operational excellence into business value within their own organizations: http://www.securityinfowatch.com/video/12182407/converting-security-services-and-operational-excellence-into-business-value
Francis on finding next-generation security talent within your own organization: http://www.securityinfowatch.com/video/12343833/video-finding-next-generation-security-talent-within-your-own-organization
On the characteristics of next-generation security leaders: http://www.securityinfowatch.com/video/12348644/who-are-next-generation-security-leaders
On Establishing the Value of All-Hazards Risk Mitigation: https://www.youtube.com/watch?

On Developing next generation security leaders: https://www.securityinfowatch.com/home/video/10938221/video-developing-next-generation-security-leaders