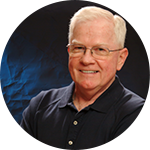 J. David Quilter
Emeritus Faculty
J. David Quilter is a Security Executive Council Emeritus Faculty Member and author of FROM ONE WINNING CAREER TO THE NEXT.
Over his career he has been recognized as a distinguished leader in law enforcement as well as in private sector asset protection, security program development and integration for several Fortune 500 corporations. David has developed and designed security processes that help businesses drive productivity and profits in ways that unifies security across enterprises big and small. David is most noted for making security work for his customers. As a security leader David is best known for bringing proven skills, insights and know-how that advance existing security measures and bridge security gaps while enhancing business operations.
David "weaves" together solid security and business practices in ways that deliver safer, more secure operations and enhanced profitability. He is a life-long learner who continues to serve business and government with distinction. As a leading security consultant David possesses the business savvy and perspective to resolve challenging security, business continuity, and incident management issues.
His presentations on business security and infrastructure issues include:

Zell Institute for Risk Management, Kellogg School of Management, Northwestern University

ASIS International

International Facility Management Association

International Security Management Association (ISMA)

Canadian National Capital Security Partners' Forum
David continues to share his wealth of expertise and knowledge. When a credentialed Certified Fraud Examiner (CFE) David developed cost-recovery tools that vividly demonstrate the negative impacts of theft, fraud and embezzlement on businesses and organizations.
Current Affiliations/Memberships: Security Executive Council (SEC), American Society for Industrial Security (how working with business and security leaders around the ASIS), Association of Certified Fraud Examiners (ACFE), International Security Management Association (ISMA).
Former Affiliations/Memberships, Computer Security Institute (CSI), Association of Threat Assessment Professionals (ATAP), American Gas Association Security Committee (AGA), DOE, ENERGY-Information Sharing Analysis Center (ISAC) Board of Trustees
In Their Own Words
Watch his video series, Smart Security: Practices That Increase Business Profits: https://www.youtube.com/watch?v=o0zTqz8hIiM and Smart Security: The Quilter Cost Recovery Matrix: https://www.youtube.com/watch?v=18CO8NlwNRU&list=PLGTzawRaifeQxR-qUKQ4So05LLQPIoEzN